Is the desktop computing platform still going the way of the dinosaurs?–PC Pitstop
Is The Desktop Still Dying?
by Bob Rankin
We've been hearing the death knell of the desktop for several years, as pundits pontificate about the rise of smartphones, tablets and laptops. But what do real people think, outside the ivory towers and echo chambers? Let's take a look at the numbers…
And the Survey Says…
Desktop PCs are still the best computing platform, according to the latest edition of the American Customer Satisfaction Index (ACSI) Household Appliance and Electronics report. Tablets are rapidly losing their appeal, and laptops are slipping, too.
Overall satisfaction with the three main types of computing platforms declined for the third straight year, dipping 1.7% on ACSI's scale of 100. The ACSI surveyed 2,945 customers in the second quarter of 2015. The chart below shows the four-year trends of customer satisfaction with desktops, tablets, laptops, and their combined ratings.
Desktop PCs had the highest score in the 2015 survey (81). Tablets tumbled a whopping 6 percent, to 75. Laptops continued a steady long-term decline, tying tablets at 75. "As large-screen smartphones become more popular, they've made tablets somewhat redundant—caught in between the mobility of a smartphone and the power and functionality of a desktop," explained Claes Fornell, ACSI chairman and founder, in a summary of the results.
ACSI 4-year satisfaction trend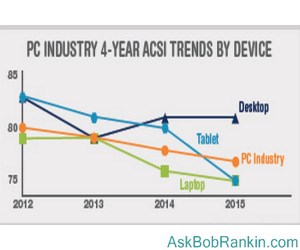 That may be true, but when I look at that chart, I see buyer's remorse. I see people buying into the notion that a 10-inch tablet or an 11-inch laptop could do everything they did previously on a 24-inch desktop rig with a real keyboard.
Apple CEO Tim Cook, in other news reports, thinks that tablets will replace desktops "in some homes" (but not his, he adds). If all you do is surf the Web, check email, watch Netflix, and control your Internet-enabled coffeemaker, a tablet may serve just fine.