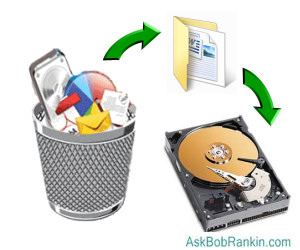 7 Free Tools to Recover Deleted Files
By Bob Rankin
There is almost nothing worse than losing important files when you experience a finger fumble, brain freeze, or computer crash. But never fear, there are tools that can help you recover those lost files, and some of the best ones are free…
How To Recover Deleted Files – For Free
So you lost an important file. Ouch. If you simply deleted the wrong file, you can usually get it back by opening the Recycle Bin (on Windows) and restoring it. On a Mac, you'll look in the Trash Bin. Linux users, check the Trash folder. The happy secret here is that in most cases, deleted files really aren't gone at all. They're just moved into the Recycle/Trash bucket, and can be restored to their original folders with a few clicks. But if that doesn't do the trick, try one of these free tools to do the heavy lifting. Read on and you'll find a crop of tools to recover deleted files.
#1 Piriform's Recuva (pronounced like "recover" with a Brooklyn accent) will help you to find files and images on your Windows computer that were deleted by human error, including those deleted from your digital camera memory card or MP3 player. Recuva can also restore files deleted from the recycle bin or those that were deleted by a bug, virus or crash. This is a free Windows application that includes a support forum and because it is a freebie, Piriform would appreciate a small donation if you like their software. Recuva comes from the same people that developed the popular CCleaner, so the reputation is rock solid.
#2 PhotoRec is a free undelete utility for Windows, Linux and Mac OS X. Despite the name, it can recover almost 400 different file formats (not just photos) including ZIP, Office (Word/Excel/Powerpoint), PDF, HTML, TXT, and JPEG. Photorec can recover files from a variety of media, including hard drives, CD/DVDs, digital camera memory cards, and USB flash drives. It can also be used with portable devices (including the iPod) and many digital cameras. Photorec doesn't even require that the drive be partitioned, formatted or mounted with a drive letter.
#3 Recover Files 2.1 is a free professional software tool that allows you to recover data removed from your hard drive, recycle bin, portable devices or even a compact flash drive. This Windows-based utility is compatible with Windows 95/98/Me/NT/2000/XP/2003/Vista/Win7 and will recover lost files from all NTFS and FAT partitions with a simple interface. The award winning software has recently been updated to repair some bugs and added 11 languages. Register on their site before downloading.
Excerpt shared with permission from Bob Rankin.
3,378 total views, 1 views today
(Visited 1 times, 1 visits today)